Tosashimizu 132nd Shinyō Special Attack Squadron Monument
Tosashimizu City, Kōchi Prefecture
The cliffs along the water in Tosashimizu City still have 15 caves dug out of the rocks in 1945 to hide shinyō explosive motorboats. A monument erected in 2005 in front of a couple of these caves gives the history of the 132nd Shinyō Special Attack Squadron stationed at Tosashimizu:
Shinyō Special Attack Squadron Base Site Monument

In June 1945, a special attack squadron was stationed here at Koe Bay in preparation for the landing of American forces on the mainland. It was a shinyō special attack squadron in which crewmen would crash into enemy ships in two-man plywood boats armed with 250 kilograms of explosives in the front part of each boat. Among a total of 171 squadron members, 48 were crewmen, mostly youths of 17 years of age. With tension due to the war situation, orders were issued several times to standby to make a sortie, but the war ended without having to launch the boats. We narrowly escaped with our young lives.

The caves that exist here were shelters for these shinyō boats. Today at this time 60 years after the end of the war, when the horrors of a war that must not be repeated have faded, we erect here this monument hoping that these shelters may be preserved for a long time so that they may become living teaching material and so the story may be passed down from generation to generation in order to serve as a guidepost for eternal peace.

March 2005
132nd Shinyō Special Attack Squadron Base Site Preservation Association
The back of the monument lists the names of the 132nd Shinyō Special Attack Squadron members.
A sign to the left of the monument, put up by the Tosashimizu City Board of Education one year after the monument's erection, provides additional details on the history of the 132nd Shinyō Special Attack Squadron:
Former Navy Shinyō Special Attack Squadron Base Site

These caves are the remains of shelters for special attack weapon shinyō boats during the Pacific War. The scale of each shelter is roughly 3.5 meters in height and width and 20 to 29 meters in depth. The 15 shelters that were dug held 24 boats in total.

The two-man Model 5 shinyō boat was made from two sheets of waterproof pressed plywood. The boat had a length of 6.5 meters and a width of 2 meters. It weighed 2.4 metric tons and had a speed of 25 knots (about 45 km/hour). With the front part armed with 250 kilograms of explosives, the boat was a special attack (suicide) weapon designed to crash into an enemy ship.

In the latter part of the Pacific War in April 1945, American forces landed on Okinawa. It became a tragic battle that involved inhabitants all over the island. In this period Japanese forces already had lost nearly all of their warships and aircraft, and it reached the point where there was nothing else to do but to carry out taiatari (body-crashing) attacks by small special attack weapons against the swarming enemy ships.

Imperial Headquarters expected that American forces would land in southern Shikoku to carry out the decisive battle for the Japanese homeland, so Army units were positioned along the coast of Tosa Bay, and Navy special attack squadrons with shinyō and kaiten were positioned in key areas.

Fortunately the war's end came in August. If the war had been prolonged, perhaps this area also would have become a gruesome battlefield.

The shelters that exist here are valuable remains of war history. We desire that they tell the story to future generations as a legacy toward eternal peace.

Date established: October 1, 2006
Tosashimizu City Board of Education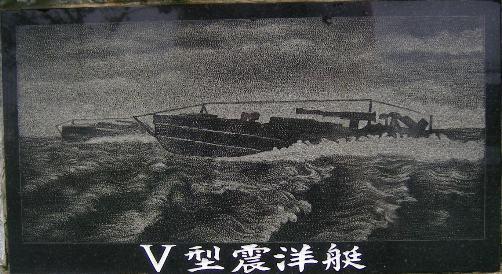 Drawing of Model 5 shinyō boat at base of
132nd Shinyō Special Attack Squadron Monument
One 132nd Shinyō Special Attack Squadron member, Seifu Nikaido, wrote a book about his wartime experiences entitled Umi no bohyō: Suijō tokkō "shinyōtei" no kiroku (Grave markers at sea: Record of sea-based special attack shinyō boats).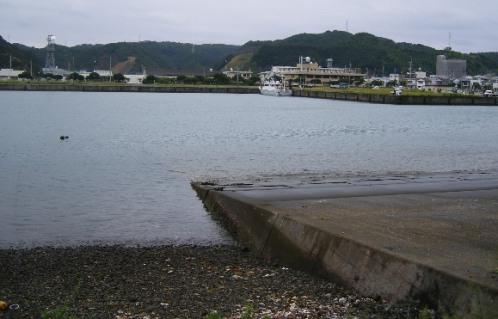 Koe Bay as seen from in front of
132nd Shinyō Special Attack Squadron Monument
Based on a two-page history of the 132nd Shinyō Special Attack Squadron written by Squadron Commander Kunio Watanabe (Shinyō Association 204-5), the 45 shinyō boat pilots in the 132nd Squadron trained in Nagasaki Prefecture at Kawatana Torpedo Boat Training School. The following provides key dates in the history:
May 25, 1945 - formed 132nd Shinyō Special Attack Squadron

May 29 - left Kawatana to go to Kure Submarine Base in Hiroshima Prefecture to prepare supplies for the shinyō base

June 17 - departed from Kure

June 18 - arrived in Sukumo, Kochi Prefecture, at the headquarters of 21st Totsugeki Unit

June 26 - arrived at base of 132nd Shinyō Squadron at Koe Bay
In addition to the 45 two-man Model 5 shinyō boat pilots, the 132nd Shinyō Squadron had 7 officers, 14 headquarters personnel, 31 maintenance workers, and 71 base workers for a total of 168 members. The men originally were housed at Shimizu Elementary School, but in early July they moved to local houses due to heavy air bombardment. On June 29, 1945, two maintenance workers died in a large explosion caused by gunfire from an enemy plane. On July 28, another maintenance worker died when a Grumman fighter strafed the area with machine gun fire.
The 132nd Shinyō Squadron went on standby alert for 12 hours on July 28, 1945, and for another 12 hours in the early part of August, but the shinyō explosive motorboats never left base to make an attack on enemy ships.
The Tosashimizu Shinyō Association was formed in 1975 with mainly former pilots, and this group met annually for many years to remember those who died during and after the war.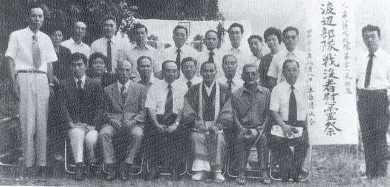 Former members of 132nd Shinyō Squadron and family
members gather at former base site in Tosashimizu
(August 1978)
Source Cited
Shinyō Association (Shinyōkai), ed. 1990. Ningen heiki: Shinyō tokubetsu kōgekitai (Human weapon: Shinyō Special Attack Corps). Shiro Arai, general editor. Volume 2 of 2. Tōkyō: Kokushokankōkai.