44th Shinyo Squadron Accident Victims Monument
Setouchi Town, Kagoshima Prefecture
The 44th Shinyo Special Attack Squadron with 50 shinyo explosive motorboats was stationed at Kuji Bay in the south of Amami Oshima, an island about 130 miles north of Okinawa. During one morning in June 1945, there were two explosions in a shinyo storage tunnel that killed 13 men, including Squadron Leader Miki.
In November 1955, a small monument next to the tunnel where the explosions occurred was erected by Japan's Ministry of Health and Welfare to remember the 13 victims from the accidental explosions. The monument's front has engraved the words "Shinyo Squadron Accident Victims Monument," which are now difficult to read with the passage of several decades since the monument's erection. The monument is located west of the village of Kuji and is about a 20-minute walk from the road along a rocky beach.
The 44th Shinyo Special Attack Squadron at Kuji Bay had 178 total members including 6 officers, 50 shinyo motorboat pilots, 29 maintenance workers, 21 headquarters personnel, and 72 other base workers. The squadron had 55 one-man Model 1 shinyo motorboats loaded with explosives for suicide attacks to crash into enemy ships.
The squadron's shinyo motorboat pilots were from the 20th Otsu Class of the Navy's Yokaren (Preparatory Flight Training Program) at Mie Naval Air Group. They were selected in November 1944 from volunteers for pilots of a new weapon. The shinyo motorboat pilots received their training at Kawatana Torpedo Boat Training School in Nagasaki Prefecture. The 44th Shinyo Special Attack Squadron was formed on January 25, 1945.
The shinyo pilots arrived at the Kuji Bay base on March 8, 1945. The shinyo motorboats were hidden in several tunnels that were dug into the base of the mountain next to the bay. A spark apparently caused the explosion in June 1945 in one of the tunnels. Squadron Leader Miki was not there when the first explosion occurred, but he came running to the tunnel to find out what happened, but he was killed in the second explosion.
The 44th Shinyo Squadron pilots ended the war without ever making a suicide sortie against enemy ships.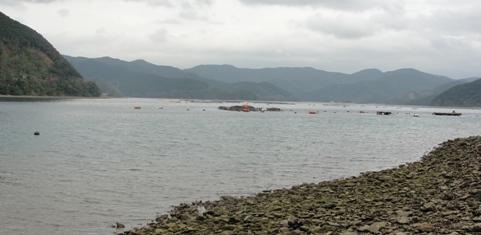 View toward Kakeroma Island from Kuji Bay near the
44th Shinyo Squadron Accident Victims Monument
Very little remains of the tunnels that used to hide the shinyo motorboats. Most are hidden in the underbrush. Below is one of the remaining tunnels that is mostly filled with rocks.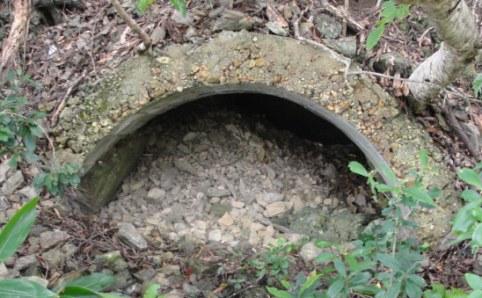 Shinyo storage tunnel next to Kuji Bay
---
The historical information on this web page about the 44th Shinyo Special Attack Squadron is from pages 94-5 (written by Masao Iimura, former 44th Shinyo Squadron crewman) of the following book:
Shinyo Association (Shinyoukai), ed. 1990. Ningen heiki: Shinyou tokubetsu kougekitai (Human weapon: Shinyo Special Attack Corps). Shiro Arai, general editor. Volume 2 of 2. Tokyo: Kokushokankokai.