Kaigun suijō tokkōtai: Shinyō (Navy surface special attack corps: Shinyō)
by 56th Shinyō Squadron Member Volunteers, Reiko Kimura, and Enosuke Kamida
Genshū Publishing, 2004, 187 pages
Almost six decades after the 56th Shinyō Special Attack Squadron disbanded, several surviving veterans share their wartime experiences in this history entitled Kaigun suijō tokkōtai: Shinyō (Navy surface special attack corps: Shinyō). Probably since so much time has passed, the individual events described in the book do not contain many details or much emotion, and a great deal of information regarding the squadron's history gets repeated as different individuals tell the same basic story. The book also presents background of the overall deployment of the Japanese Navy's Shinyō Special Attack Corps assigned to carry out suicide attacks by crashing motorboats loaded with explosives into enemy ships as they neared the shore.
On May 25, 1945, the 56th Shinyō Squadron was formed at Ōmura Bay in Kawatana Town in Nagasaki Prefecture, where the motorboat pilots had trained for almost two months. In the first part of June 1945, the men left for Ena Bay at the southern end of Miura Peninsula in Kanagawa Prefecture. The 56th Shinyō Squadron had 183 members in total including 8 officers, 53 motorboat pilots, 14 headquarters personnel, 73 base workers, and 35 maintenance personnel. The squadron had 52 one-man Model 1 and four two-man Model 5 motorboats that carried 250 kg of explosives in the bow. They were hidden during the day in tunnels dug into cliffs alongside Ena Bay, and squadron members made training runs during the darkness of night.
The squadron officers located their headquarters at the main hall of nearby Fukusenji Temple, and the shinyō pilots lodged in four private homes. Most pilots were only 16 or 17 years old while stationed in the Matsuwa area around Ena Bay waiting for the anticipated landing of the American fleet. At about 2300 during the night of August 1, 1945, an order was given to squadron members to be ready to sortie, since there was an alert that an enemy fleet had been spotted near shore. They waited throughout the night to launch their boats, but at about dawn they received notice that the information about an approaching enemy fleet was mistaken. On August 15, 1945, the Emperor announced the end of the war. Without suffering any casualties during the war, 56th Shinyō Squadron members left base on August 24 to return to their homes.
Reiko Kimura, who grew up on Miura Peninsula and went to high school in Yokosuka near the end of war, coordinated the creation of this book. She explains in the Preface that she never heard about the 56th Shinyō Squadron until she visited Fukusenji Temple in 1999. She met several former squadron members during their annual reunion in Miura City and became interested in telling their story, since the Navy's Shinyō Special Attack Corps has remained relatively unknown in comparison to the Kamikaze (Shinpū) Special Attack Corps. Kimura gets the book off to a slow start with the first section providing a long chronological history of the Greater East Asia War with extended excursions into her wartime experiences, which have no direct relationship to the Shinyō Corps history. The next unnumbered section written by Kimura summarizes the history of the Navy's Shinyō Special Attack Corps and the 56th Shinyō Squadron.
The book's next sections written by Kanichi Usui, a former 56th Shinyō Squadron motorboat pilot, provide a summary history of the squadron, names of the 183 squadron members, and a listing of the squadron's annual reunions held since 1976. The current chief priest of Fukusenji Temple then has an article about the squadron's use of the temple as its headquarters and the reunions held in the postwar period. Eight former squadron members then have individual articles about their wartime experiences. Next a section gives various unattributed quotes from a reunion of nine former squadron members that took place in June 2003. One interesting quote mentions that their training included sessions similar to mind control (pp. 112-3):
I did not think of death as scary. Perhaps I did not know what type of thing was death and that then was not the time to die. Even if I died, I only had the feeling like I would live again. Every day we listened to two hours of lectures to keep us mentally prepared, so it seems like we were subjected to a kind of mind control.
The next part includes interviews with current residents at each of the four private homes where shinyō pilots lodged during the war. Some interviewees were children at the time the pilots stayed in their homes, and they describe what they remember from that time. They also each mention how former squadron members return year after year during reunions. The book's final section has various reference material including detailed base maps, photos of Ena Bay and shinyō tunnels, information about all 114 shinyō squadrons, maps showing shinyō base locations in Japan and other countries, and a chronological history of the Shinyō Special Attack Corps. The book also includes over 20 photos, including one of the 56th Shinyō Squadron's pilots (see below) and a couple taken at reunions of former squadron members.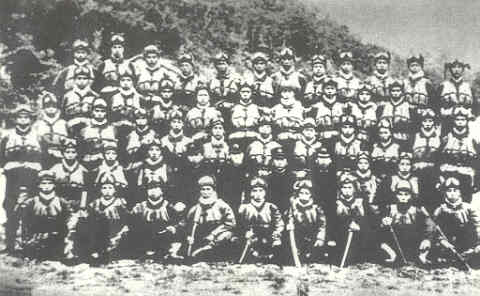 56th Shinyō Special Attack Squadron
---
In the year after publication of this book in 2004, the 56th Shinyō Special Attack Squadron Iwadate Unit Monument was erected at Fukusenji Temple in Miura City.